2020 has been the year of many firsts. Lockdown, self-isolation, furlough… the list is endless. It's also been my first Christmas away from home since I moved abroad in 2016. I had always been very lucky and managed to get holidays over Christmas and fly to sunny Barcelona. I guess it was something I sort of took for granted. Sometimes I wondered what it would be like to spend Christmas here in the UK, away from my family. It didn't seem like a good idea. The truth is I'm not crazy about Christmas but I'm not the Grinch either. Christmas equals family time and copious amounts of food.
This year I was hoping to go home, but after two flight cancellations and travel restrictions, I had to stay in Edinburgh. It wasn't only my first Christmas away from home but also my first attempt at British Christmas cuisine. I killed two birds with one stone, I guess. Having an English boyfriend makes things easier, but it was also his first attempt at cooking Christmas food. It was a challenge for us both.
After we had decided on the menu, we headed to the supermarket. The queue was painfully long and I was scared we wouldn't be able to find any turkey. Surprisingly, the supermarket was well stocked and we managed to get our hands on everything but cranberry sauce. Sigh.
Our star dish would be a roast turkey crown with orange and home-made gravy, following Mary Berry's recipe). For those who don't know her, she's one of The Great British Bake Off's judges. It was indeed a hands-on job (pun intended). The first step was quite delicate. We had to carefully loosen the skin to separate it from the meat, making sure not to tear it.
Afterward, we had to smear a mix of butter and thyme leaves all over the meat. I felt like I was giving a very oily massage. Then, the turkey was ready to be stuffed with orange slices all over and transferred into the oven. Every half an hour, we would check on it and sprinkle some port or lemon juice to keep it moist. The result was delicious!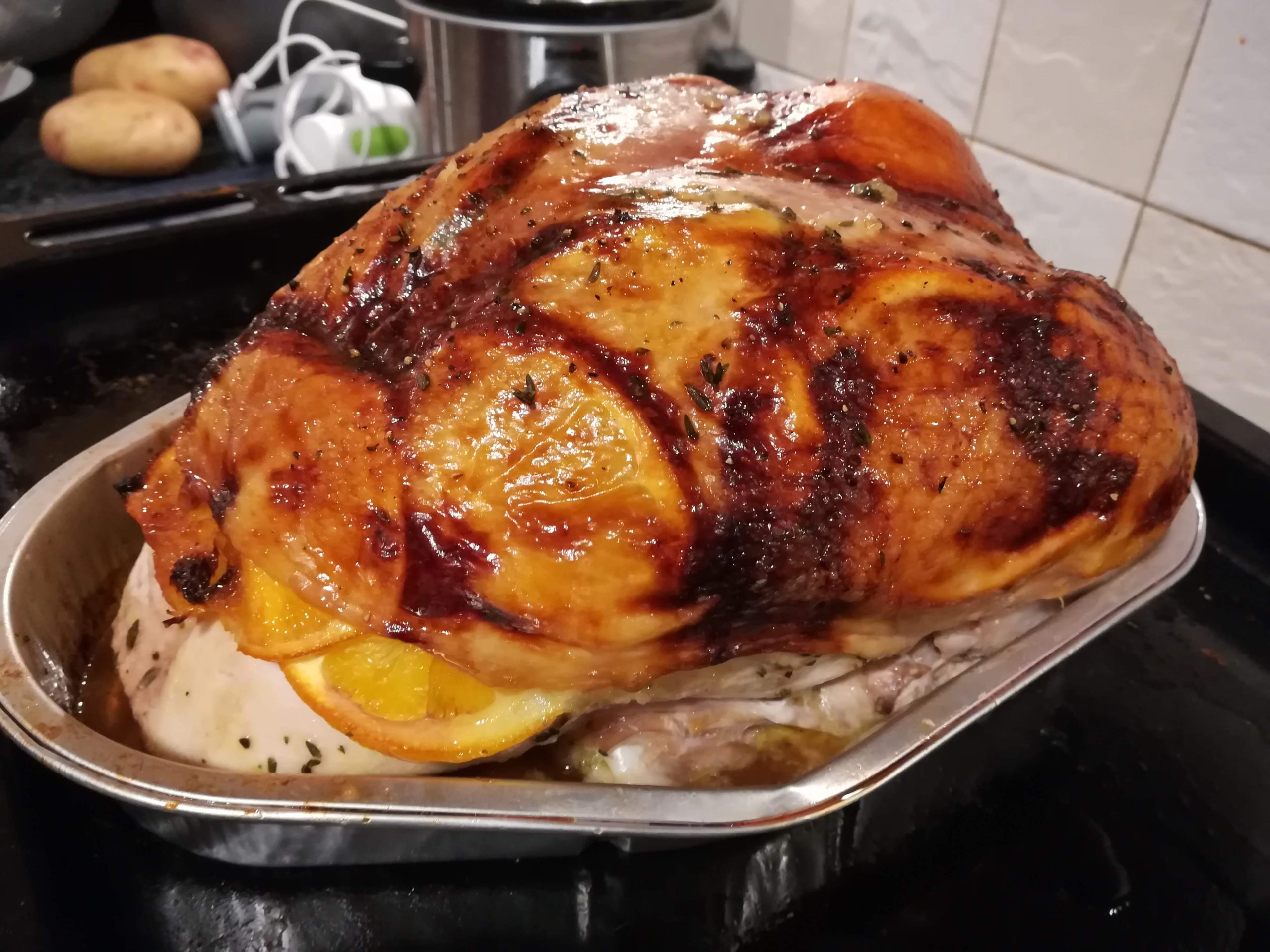 Our magnificent beast
A 2Kg turkey was definitely not enough for a Christmas meal. Of course, we had more things up our sleeves: roasted sweet potato and parsnips, pigs in blankets (pork sausages wrapped in bacon), Yorkshire puddings (we didn't make those from scratch, unfortunately) and gravy.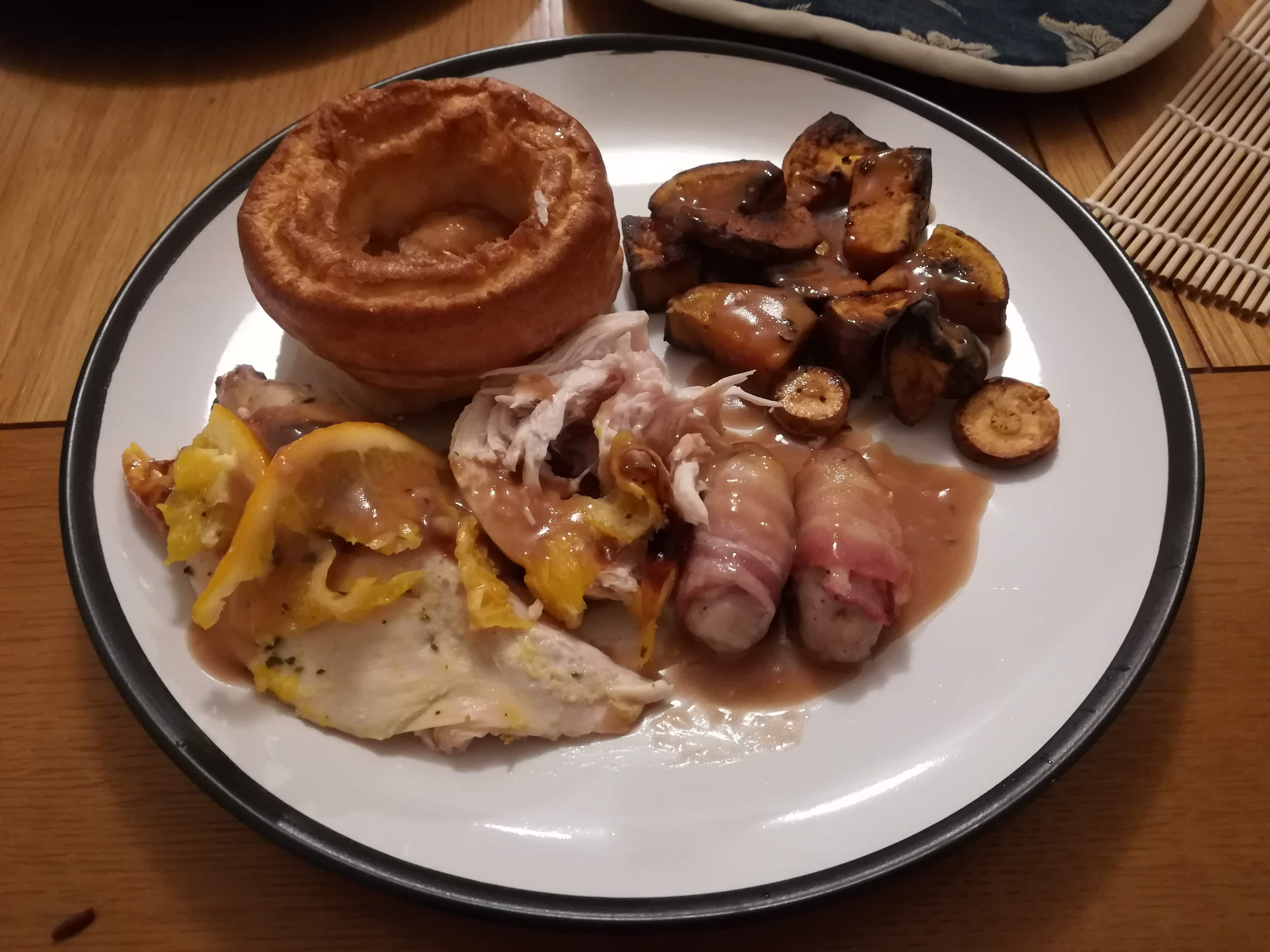 Yorkshire pudding is the pastry on the top left
I've never been a fan of gravy. I'd tried it on very few occasions but didn't understand what all the fuss was about. On Christmas Day, we made gravy from scratch. The flavour is very different from those soluble granules you can find at the supermarket! We just had to boil the juices of the turkey, add some flour, soy sauce, the unpronounceable Worcester sauce, port and chicken stock. It was heaven on earth. Well, heaven on turkey, Yorkshire pudding, pigs in blankets and roasted vegetables.
We had been overly optimistic about the amount of food we would be able to cook on Christmas day. Therefore, we had to continue our cooking adventure on Boxing day and on the 27th. What was missing? Stuffing and Brussels sprouts.
I'd always thought Brussels sprouts weren't my thing. I would always skip past them at the supermarket. I'd always avoided them and to be honest, I can't even remember if I ever tried them! Apparently, Brussels sprouts are a must in the British Christmas cuisine. I couldn't avoid them anymore… Luckily, the story had a happy ending. Turns out I do like Brussels sprouts! (The apple sauce helped, but now I feel ready to eat them on their own)
Last but not least, we had to make the stuffing. I was busy in a video call so James made it. It's something a bit hard to explain, but it's basically sausage meat combined with old bread, celery, herbs, egg, etc. There are many different versions of this dish. This is the recipe) he used if you'd like to give it a go. It was amazing!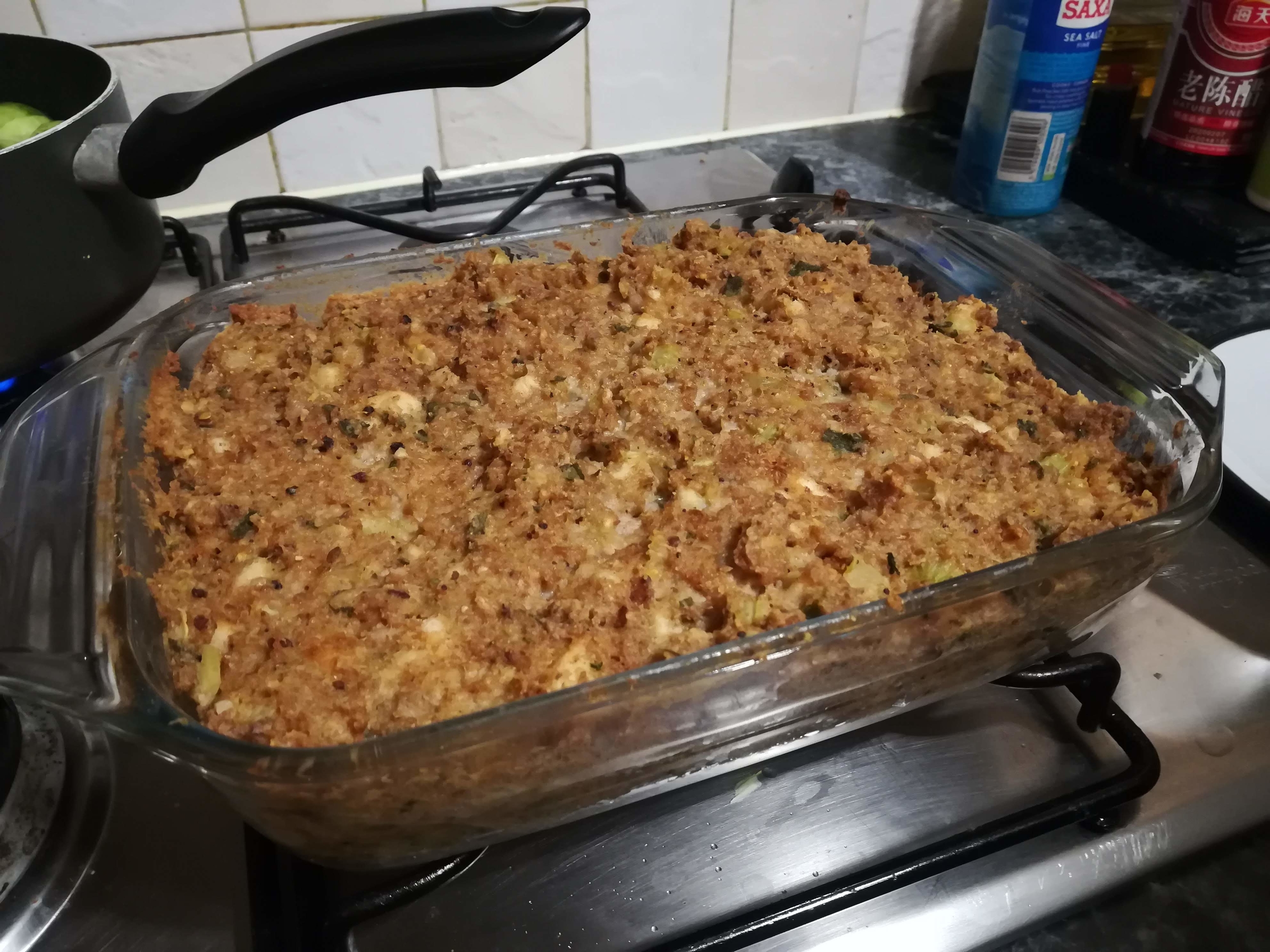 Yummy stuffing! Special guest appearance: Brussels sprouts (top left)
I almost forgot one last thing: mince pies. I tried them for the first time this Christmas. I'd always been intrigued and slightly confused about their content (some of my expat friends went through the same). Mincemeat. What are we talking about here? Are they savoury? Do they have pork mince inside? Turns out they're sweet. 'Mincemeat' is a code name for dried fruits and spices.
Merry delayed Christmas, everyone!
Have you ever spend Christmas abroad? Did you eat or cook any traditional food from that country? Tell me in the comments. 😉
---
---