Good morning and thank you kindly for not throwing this beautifully folded leaflet in the recycling bin,
If you are a cat owner looking for some insightful information on how to understand your cat better, let me tell you a secret: you never will! I mean, you've come to the right place.
If you are a cat -Congratulations!-, you already know that… Every day is Christmas!
(If you are new to this whole thing of being a cat, don't worry: we're here to help).
Let's break it down, shall we?
1. Generosity
Every day is a good day to give your owner a present. You can be old-fashioned or spice things up: there are no rules here. It could be a dead lizard, some white fur on the black suit he was planning to wear the first day of his new job or even some vomit on the carpet -preferably if it had just been professionally cleaned-.
2. Always stylish
Every day is a good day to~wear~ show off your lovely Christmas jumper. No matter the weather. It will always look cool on you, sexy beast! You'll be all over Instagram, Telegram and Felinegram. Sure, you'll probably sweat a bit on warm days but it'll still be worth it. Pro tip: if the wool gets too itchy and you are tempted to use those magnificent claws that Mama gave you to tear it off, have your personal scratcher handy.
3. Delicious gourmet food
Every day is a good day to have a feast. And we're talking big: fresh tuna, Greek yoghurt, Scottish salmon and why not, some exquisite dry-cured Spanish ham. If giving puppy eyes to your owner is not your thing, you'll have to resort to riskier but immensely rewarding methods. Learning how to open -and close!- the fridge, how to safely use a can opener and even becoming an expert in online shopping. YouTube tutorials were a lifesaver for me! However, if you are not the smartest don't worry, just do some deep digging in the trash and bon appétit.
4. Unsolicited cuddles will NOT be tolerated
Every day is a good day to ask your owner for cuddles. You want me to wait until the 25th of December? Not going to happen! Love and affection will be on display every single day. Curled up on your owner's bed, sofa or even when he's in the toilet! There is never a bad time to request -or give, if you are into that too, but never feel obliged as it's not specifically stated in your contract- cuddles, even when your owner claims to be in a hurry!
5. Always a good host
Every day is a good day to invite all your family over. Just because. Yes, the squirrels from the back garden, the parrot from next door, that~annoying~ lovely mosquito and even the mouse you've been chasing behind the walls. Get your fancy cutlery out and spread the ~butter~love! It's up to you if you want to invite your owner or keep your reunion exclusive. Fair warning: if you struggle to keep things too friendly with the mouse don't worry, just go for it and see number 1 for further advice. You got this.
6. Restless singing
Every day is a good day to embrace your talent and perform some fabulous Christmas carols to your owner. Rudolph the Red-Nosed Seagull, Jingle Bells, Santa Claws is Coming to Town… The more, the merrier! Give that lung capacity a big boost and be as loud as you can. You'll release lots of adrenaline and it'll make you feel amazing. And your owner -and even the neighbours- will love it. Especially at 4 am!
Thank you so much for reading us and Merry Christmas!
Yours faithfully,
Cats for Christmas committee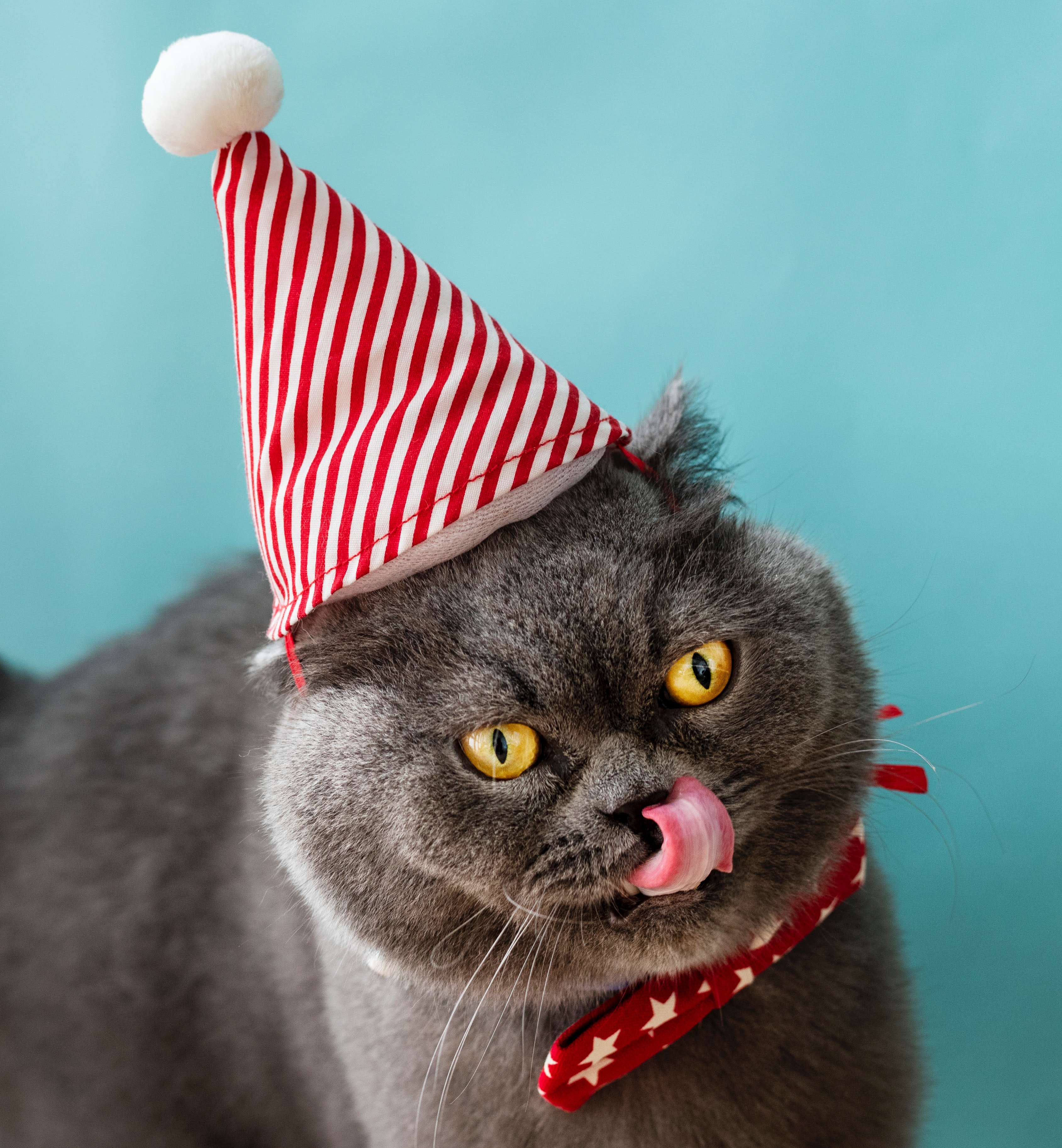 ---
---